Builds
Posted by Derrick Lovell on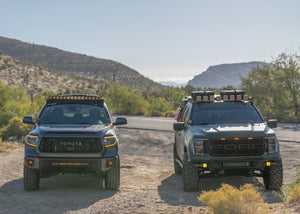 We're excited to bring to SEMA a couple of Hotshot Offroad builds this year! We've been working diligently on them over the past year to bring fully capable and daily-driven trucks to this year's show. Below is a quick pick-list overview of what we have completed on these trucks. Be on the lookout for full writeups on a lot of these products, and make sure to follow our socials as more info trickles out!   2022 F150 Tremor Suspension Icon CDCV 2.5 Front and Rear shocks Icon Billet Upper Control Arms Icon RXT Raptor Leaf Packs Maxtrax 2" Drop Shackles...
Posted by Derrick Lovell on
It has been MONTHS of anticipation from Diode Dynamics on some of their products coming out. One of big ones being their new Rock Lights. We first previewed these lights back in SEMA of 2022. At first glance we were immediately intrigued. We say intrigued because over the years; rock lights have become more of a fashion than a function. Now don't get us wrong; nothing wrong with looking good. But the concept behind a Rock light is in its name itself. Light up the rocks. But long past the days of just using such lights for one simple fashion....
Posted by Derrick Lovell on
Icon 2.5 CDCV on a.....Tremor?   There's been a lot of talk circling the Tremor model within the F-150 communities. One question that has been asked a lot lately that many haven't had an answer to is simply "What suspension does and does not fit on these tremor models?" It seems that many brands are disclosing that their kits are not recommended for the F-150 Tremor. Which led us to ask the question; why? We researched and read through what many have attempted to make work or have confirmed that has fit, and we kept seeing the same few answers: Halolift,...